Press Release Economics of Mutuality Forum Erasmus University Rotterdam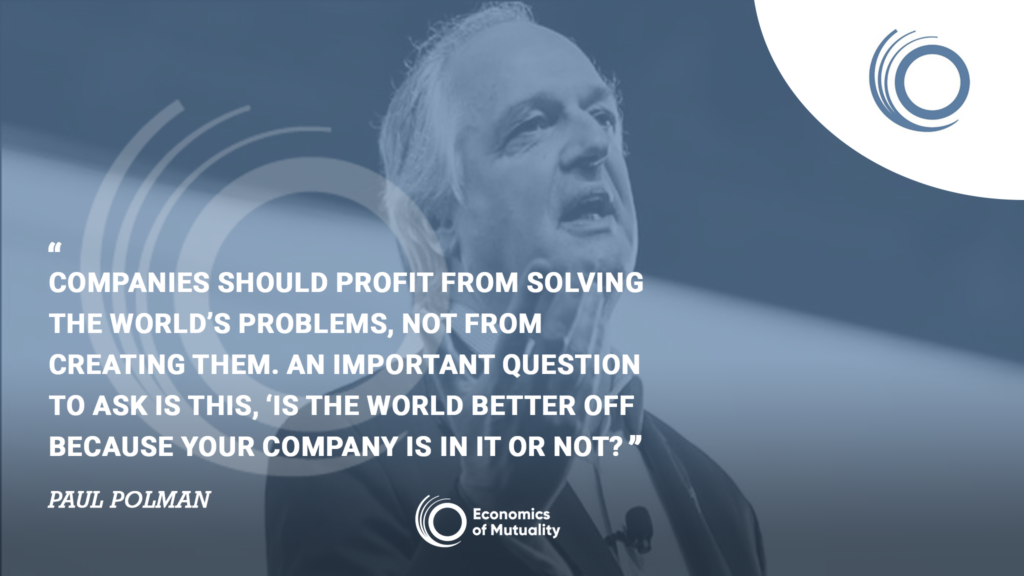 Press Release Economics of Mutuality Forum Erasmus University Rotterdam (EUR) | A Call for Courageous Leadership
"Companies should profit from solving the world's problems, not from creating them. An important question to ask is this, 'Is the world better off because your company is in it or not?'"
It was with these words that Paul Polman, former Unilever CEO and co-author of the new book 'Net Positive. How courageous companies thrive by giving more than they take.', started his presentation on Nov. 25th, 2021 at the Economics of Mutuality (EoM) Forum at the Erasmus University in Rotterdam. The forum was organized and moderated by Arleen Westerhof and was a collaboration between the Center for the Economics of Mutuality (CEM, https://eom-center.com ) and the Erasmus Initiative for the Dynamics of Inclusive Prosperity (DoIP).
There has never been a time in which it has been more urgent for us to change and align business practices to benefit people and planet than now. Before the forum it was already clear that a majority of CEO's, and others, agree with these ideas, but so far only a few companies had the courage to act decisively and actively change their modus operandi. However, companies need to act now and a sense of urgency is needed to cause a tipping point. Our planetary boundaries and societies demand this and the EU will soon be making it mandatory. There is already legislation in the pipeline that will require all medium sized and large companies in the EU, from 2024 onwards, to prove that they have a purpose that benefits others.
The role of business must be redefined and together with other like-minded organizations, the CEM is committed to accelerating the transition to the next era of purpose-driven capitalism with the aim to see a community of EoM businesses established throughout the Netherlands and the world.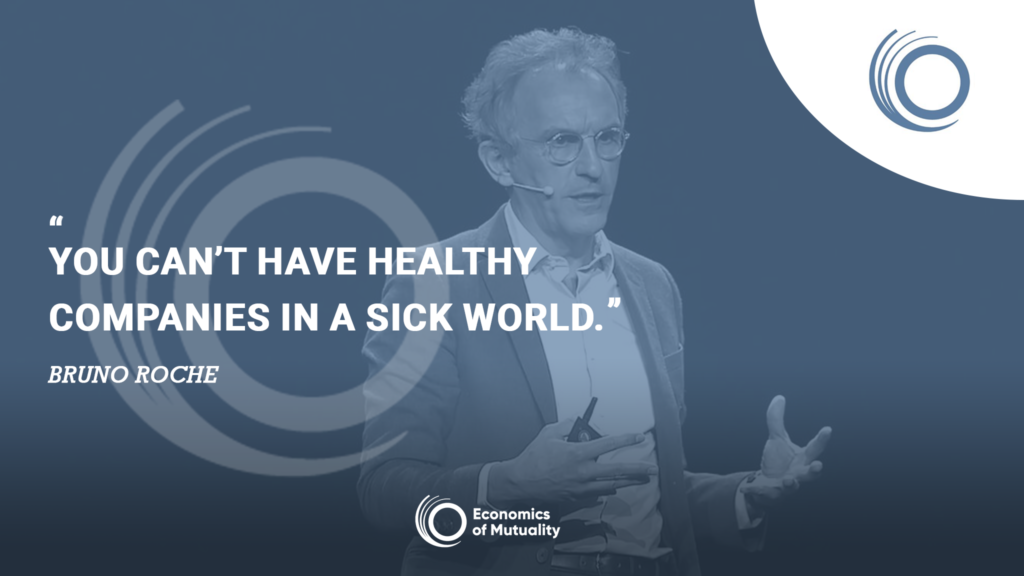 "You can't have healthy companies in a sick world."
Bruno Roche, the Founder and Director of the Economics of Mutuality Platform, Geneva
Bruno Roche, the Founder of the Economics of Mutuality, said in his keynote address that, "Gone are the days when companies can expect to continue to profit from creating problems for society and the environment." He ended his presentation by offering a practical step that interested companies can take. His organization has developed a 'Purpose Scanner' designed to help the leaders of companies ask the right questions so that they can act decisively in their journey towards becoming purpose-led organizations. 
In addition, the CEM together with the DoIP, will recruit two Postdoctoral Researchers. The first will be appointed for two years and will develop an online Executive Education Program in collaboration with the Rotterdam School of Management (RSM). The program, 'Putting Purpose Into Practice. Implementing EoM in SME businesses', will be for CEO's and their management teams. The second, will do research on 'Inclusive Economic Growth Models for Asian Economies' using an Economics of Mutuality framework. The results will be presented after two years to government leaders and CEO's in the Asia Pacific region. The framework will then be expanded to include other regions of the world. This project will be done in collaboration with The Asia Foundation and the Hang Yang University in South Korea. 
The event hosted a variety of keynote speeches and panel discussions. Notable guests were, among others, Bruno Roche (EoM Foundation, Geneva), Colin Mayer (Said Business School Oxford University), Paul Polman (Business leader, campaigner and co-author of "Net Positive: how courageous companies thrive by giving more than they take"), Jan Peter Balkenende (EUR and former Prime Minister of the Netherlands), Muriel Arts (IMPACTING.today), Marlies van Wijhe (Koninklijke Van Wijhe Verf B.V., FBNed and former Business Woman of the Year) and many more. 
For more information about EoM initiatives in the Netherlands, contact us at: https://eom-center.com.